Designer and Custom Tailor of Tour Clothing for the Music Industry
Ray Brown works with artists one-on-one and together they create a comfortable, individual "look".
Ray then skillfully hand-tailors the garment with precision and flair.
Clothes are crafted especially for rigorous stage wear and of the highest quality materials.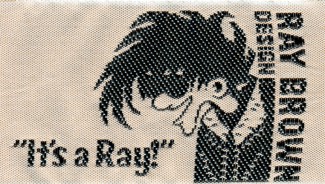 Early in his career, Ray had been making tour clothing without labels.
However, his clothes are recognizable by those who have been privy to his handiwork.
The label "It's a Ray!" was coined when two unrelated rock stars happened upon each other at a club
and one pointed to the other's clothing and said, "It's a Ray! Right?"
From then on, Ray has used "It's a Ray!" as his tour clothing label.