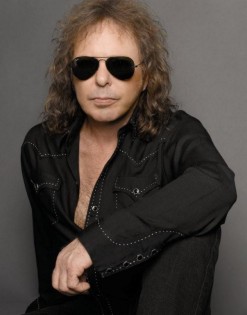 It all began back in Brisbane, Australia, with a fifteen year old Ray Brown casting himself as a slicked-back "greaser" kid hugely dissatisfied with the so-called tight jeans in the local stores which were, of course, completely vital to the look. And so, in a very unrocker-like manner he took to his mom's sewing machine and re-designed the jeans. He turned out to have an aptitude for working with fabric, and thus was born a career which would take him across the world and leave a lasting mark on the world of fashion.
Once his choice had been made, Ray relocated to Melbourne, a more vibrant city with many more opportunities for him to make a living while developing his talent. Working as a designer in a leather store he so impressed the owner that he was elevated to a full partner in the business, but would eventually leave to open his own high-end Western-style clothing store after being inspired by the famous Nudie-designed shirts sported by Elvis Presley.
Ray's store 'Wyoming' was a big hit, but his ambitions had begun to extend beyond running a successful store in a remote corner of the globe. And so it was that Ray took the traditional route of ambitious Australians and relocated to London, where he chanced upon rooms for rent in the famous Rainbow Theatre. At the time – late in the seventies – it was arguably the premier rock venue in Europe, and Ray found himself in the middle of a vibrant music scene.
Designing clothes for musicians would subsequently make Ray Brown's name, but in spite of his surroundings he would not make the transition quite yet. Instead, he continued making custom hand-colored Western-style shirts, which were selling through select Kings Road boutiques, and word was beginning to spread. He received a large order for export to Germany, and invested everything he had to fulfill the order. But just before the shirts were due to ship out a marauding group of Rastas broke into his room during a Bob Marley show and stole everything.
Needless to say, Ray was not a happy man, and complained bitterly about the security lapses to the management of The Rainbow – and was promptly given the job of making sure nothing like it ever happened again. It wasn't long before he was promoted to manager of the facility, and he would spend the next three years running the venue, often booking acts that nobody else was brave enough to handle, amongst them The Sex Pistols, The Clash, The Damned and Siouxsie And The Banshees. The Rainbow continued to be the top venue in town, in no small part thanks to the astute booking policy of its manager.
Over those three years Ray was busily burning the candle at both ends, and frequently in the middle too, which didn't leave much time for clothing work. But when you hang out with musicians as much as Ray did, the subject would sometimes come up, and as a result he did find himself making outfits for a variety of artists including fellow Australians Bon Scott and The Little River Band, as well as Adam Ant and obscure Brit rockers Charlie. And then the job ended – the Rainbow's lease was coming to an end, and the extensive renovations the building needed were precluded by a preservation order. Ray saw the writing on the wall, and decided to leave.
Rather than picking up the loose ends in London, Ray opted to pack his bags and move on yet again, arriving in Los Angeles with just $300 in his pocket. He rented a room in Hollywood and went back to his roots, making jeans on a rented sewing machine.
His first real commission was for video producer Jerry Kramer, and when Ray del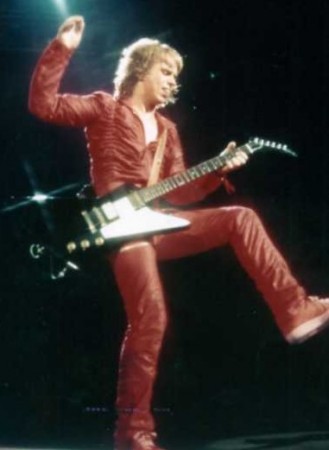 ivered the jeans to the studio where Kramer was editing a Styx video he fatefully chanced to meet the band's guitarist Tommy Shaw. Of similar stature to Ray, Tommy complained of the difficulty he had in finding stageworthy clothing that fit. The end result of the conversation was a commission for Ray to make Tommy's famous red jumpsuit; not long after delivering it he was on a Learjet bound for Chicago where he would be making all the stage gear for the band's upcoming 'Paradise Theatre' tour, early in 1981. And then the floodgates opened.
Over the coming years Los Angeles would stake its claim as the hard rock capital of the music world, but ironically Ray's next clients would be transplanted Brits – first it was Ozzy Osbourne, then it was Judas Priest. But then the locals started to catch on, and his client list began to grow at a very fast pace. Image was becoming critical in the rock world, every band wanted a striking look which would both open eyes and mark them apart, and Ray's ingenuity was constantly being challenged to come up with something new for his latest high-profile clients. Some of them had clear ideas of what they wanted, and Ray proved to be a master at translating their visions into reality; he was no less skilled at satisfying the clueless ones who just wanted Ray Brown to design their outfits because...because he was Ray Brown, and everyone used Ray Brown. Well, not quite everyone, but there was a time when nine of the top ten videos on MTV featured acts cavorting in Ray Brown designs.
Although most of his work centered on the rock world, Ray's reputation for quality work spread throughout the music business, and he has dressed clients as diverse as Cher, The Pointer Sisters, Barry Manilow, and Brian Setzer. He has also created off-stage wear for a number of his clients, not least wedding outfits for Jon Bon Jovi, Vince Neil, Tommy Lee and John Mellencamp – as well as a black wedding dress for the cover of Lita Ford's never-completed 'The Bride Wore Black' album. Another project saw Ray creating a grossly over the top diamond-studded leather jacket for the 'Spinal Tap' movie, and more recently it was Ray, now a Phoenix resident, who was chosen to design and make the jackets for the newly-minted Arizona Diamondbacks baseball team.
But still, his rock work is what Ray is best known for, and it presented challenges above and beyond 'just' looking good – it had to be durable enough to survive the rigors of stage performance. There were other designers offering their wares, but after the embarrassment of Graham Bonnet ripping one of his suits onstage with Ray in the audience, he had developed proprietary techniques to ensure that his clothing simply would not come apart – in fact he inadvertently sabotaged a move that Bruce Dickinson had developed, ripping the sleeves off his shirt onstage. A new shirt from Ray Brown simply refused to sacrifice its sleeves, and the singer was left looking more than a little daft as he clawed at the shirt in front of several thousand people.
Ray also had another ace up his sleeve – washable leather. It was a hugely expensive fabric which he stumbled across one day in his never-ending search for new materials to work with; Ray was able to buy up the manufacturer' entire stock. It was significantly more durable then real leather, much less likely to rip. And whenever it got baggy at the joints – remember, this was the era of tight leather clothing – all you had to do was throw it into the washing machine, and it was as good as new. Of course some bands usually insisted on real leather out of principle – Motley Crue and Judas Priest amongst them – but most of the eighties bands you see in their elaborate leather outfits weren't actually wearing leather at all. Which also had the added bonus of making their dressing rooms far less pungent places to be, late in a world tour.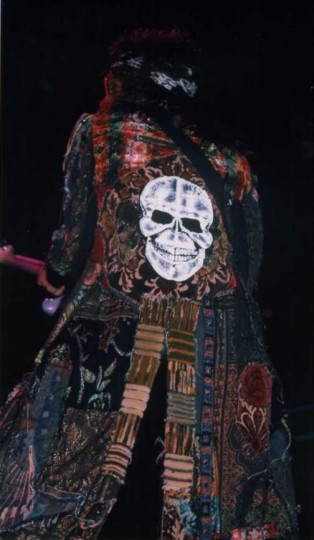 But even with all this going for him, Ray wouldn't have achieved as much as he did if he had not been such an innovative designer, with an eye for the details which made all the difference. The look was so important, and Ray consistently delivered. In fact a number of his ideas have crept into mainstream fashion over the years, ranging from the pyramid-studded leather he developed with Judas Priest to the skulls and crosses which so commonly adorn leather today, but hadn't been used before he first began integrating them into his outfits for artists like Motley Crue. Lace front leather pants? He did that for Jon Bon Jovi first. Lacing up the side of leather pants? Motley Crue. And those huge banners on the back of jackets and coats? Not seen outside of motorcycle gangs before the concept was developed in a brainstorming session with Motley Crue, Ray took the idea to new lengths, and it became one of his most popular motifs. Early adopters included Axl Rose and Jon Bon Jovi, and the jacket he designed for Jon Bon Jovi would end up with The Smithsonian – not too shabby for a guy who started out modding jeans on his mom's sewing machine.
Ray has also been featured in numerous exhibitions and books focusing on the style and fashion of rock and roll, perhaps most notably four of his outfits featured in Tommy Hilfiger's 'Rock Style'. More of his iconic outfits can be seen in numerous Hard Rock Cafes around the world, and several fashion and museum shows devoted to the era have leaned heavily on the Ray Brown collection to make their point; the popular culture of every era has consistently been indelibly associated with a certain look, and the prime mover behind the look which characterized the rock music of the eighties was Ray Brown. And, as with every era, that look has subsequently permeated into popular fashion; so intricate and time-consuming to make that they could cost thousands of dollars, many of his motifs are now being turned out by minimum-wage labor in China and showing up in Main Street stores.
But don't make the mistake of thinking that the story ends there, that Ray Brown went away when the grunge look pushed the eighties to the sidelines. It simply reduced his workload to more manageable proportions, and, as he says himself, "I've moved from one country to another, but I've never stopped making clothes." Written By: Paul Suter